Reading Time:
< 1
min
Retail finance product
One of the Largest NBFC firms provides housing finance and other retail credit products. The Company offers housing loans, loans against property, construction finance, lease rental discounting, equipment finance, as well as microfinance services. This firm serves customers in India. To disburse this loan and to manage clients and meetings Edelweiss was looking for a permanent solution to handle all these tasks.
Problem
The client wanted to make the process of managing leads in a better and more optimized way. The concept was to make a platform for their internal employees to manage leads and allocate the task to their employees. They faced many challenges and experienced human error due to the lack of organized data. The team realized they needed a proper application to carry out his unique business process workflow.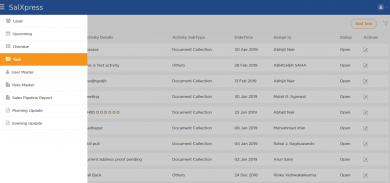 Solution
Our Client contacted Cloudesign for a unique solution. We were able to provide high-level workflow with a proper plan. We made a customized solution for them which made it easy for them to create lead and allocate tasks and check the process. This made their process easy, minimize human errors, and provide quick and easy access to their data. Handle sales pipeline, that offers visibility into the status of the loan, task and different activities like ways to easily share documents on time, and an open line of communication between the internal staff.