Reading Time:
2
min
NBFC firm achieves 75% increase in performance by implementing Fintech Solutions
Asset Management Product
Asset Management is a tedious task and it involves big shot clients and their assets which have a high net worth. So The client's goal was to create a platform where they can keep records of the investors' PMS and AIF. This platform was for managers to keep track of agents and their progress towards bringing investors on board.
Problem: Managing the data of Investors and Distributors
One of the Largest NBFC firms that have investment and financial service company based in Mumbai. Because the growing business agents had a hard time keeping all the data. 57% of the work was manually carried such as uploading every single detail of investors which was time-consuming and this whole process used to consume 58.25 % of the time. This process was not transparent and created chaos. Which indeed hampered their performance. So they wanted a solution that would make the workflow simple efficient and productive.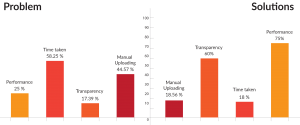 Solutions:
To tackle this situation Cloudeisgn had to set up the tech-savvy team to solve the problem of the client and deliver the project before the deadline. The technology used for the projects were
Frontend Technology used: Angular 8, Bootstrap
Middle Tier Service: Node JS
Backend Technology used: Oracle/ MS-SQL
Benefit:
Cloudesign's solution helped our client to come up with a platform that would make the asset management team's life easier. Cloudesign made a platform that automated the internal process. It proved to be highly scalable and flexible. Reporting manager could get real-time data analysis and reporting. This helped the manager to manage the workflow efficiently and get the work done. Auto-generated regulatory reports helped in decision making. The time taken to complete the whole process came down to 18% as compared to earlier. Which also brought transparency among the team members. It was shown in their performance. The performance scale was up to 75% from 25 %. Easy access to the application providing flexibility to operate even from remote locations. Wealth management auto managed in the system-manual intervention not needed.